Ethical Hacking Training in Nepal
The Certified Ethical Hacking course is the most aspired information security training program any information security professional will ever want to be in. The Ethical Hacking course provides the advanced hacking tools and techniques used by hackers and information security professionals alike to break into an organization. As we say it, "You need to think like a hacker, to defeat a hacker."
About Course
In the Certified Ethical Hacking course, we will explore the foundations of software security. We will consider important software vulnerabilities and attacks that exploit them - such as buffer overflows, SQL injection, and session hijacking - and we will study about the defenses that prevent or alleviate these attacks, including advanced testing and program analysis techniques. Importantly, we take a "build security in" mentality, considering techniques at each phase of the development cycle that can be used to strengthen the security of software systems.
Why choose neosphere for CEH Training in Nepal?
Our aim is to give our trainees a competitive advantage and we do this by collaborating with thought leaders and industry experts.

We strive to keep up with technology trends and the digital future.

We follow a customized teaching methodology whereby students can choose the level of study as per their qualification and requirement.

We believe in sharpening the mind instead of simply training the tools.

We use a practically oriented learning approach where we give students hands-on training and real-world knowledge on the subject they choose to study.

We give a live IT industry exposure to our trainees, making them job worthy.

We provide placement assistance.
What you'll learn
Interconnecting Network Devices
Security Architecture and Hacking
Windows and Linux Hacking
Securing Mobile Devices
Ethical Hacking
Career Opportunities
Information Security Analyst

Security Analyst

Certified Ethical Hacker (CEH)

Ethical Hacker

Security Consultant (Computing / Networking / Information Technology)

Information Security Manager
Certifications
Graduates from the course will be receiving:


Certificate of accomplishment from 

neosphere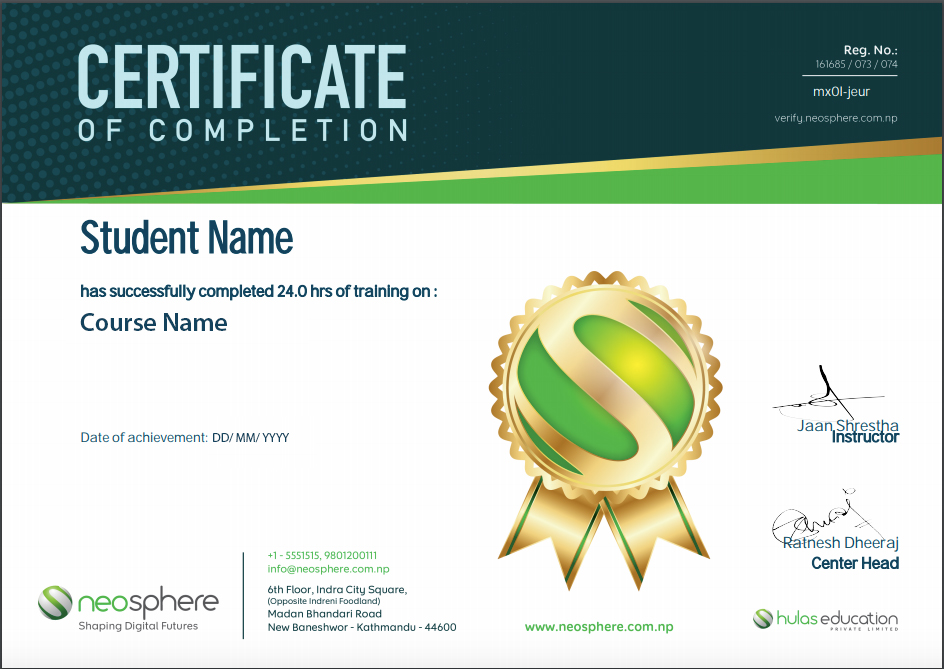 Register Now!
Session starting from Dec 10
Sun 6:30 AM - 8:00 AM
Tue 6:30 AM - 8:00 AM
Thu 6:30 AM - 8:00 AM
Seats Available
Price :
NPR 0
USD: 0