Graphic Design Training in Nepal
As the Nepali media industry spreads itself wide across digital media, print, and television, there is an increasing need for locally attuned graphic designers who can transform ideas into compelling visual stories. You can learn this much-sought-after skill from the best graphic designers in the business with our graphic design course at Neosphere, New Baneshwor, Kathmandu.
About Course
Graphic Design is a four-month-long part-time course offered at Neosphere that equips IT professionals with the skills to create graphics for various mediums and platforms, be it computer graphics, multimedia or web design. Through this graphic designing course, students develop their technical and analytical skills and learn to use them create relevant concepts and professional designs. This graphic design course provides students with the analytical tools to understand audiences and the technical expertise in fields such as sketching, photography, color theory, typography, design principles, and styling to give them a well-rounded education in design and help produce outstanding work.  
Neosphere provides you with all the necessary resources to get you started on the graphic designing course. If you are a daydreamer, love colours, loves telling stories and are known for your active imagination, this course is for you. Let us help you harness and hone your visualization and creativity to create something brilliant.
Why choose neosphere for Graphic Design Training in Nepal?
Our aim is to give our trainees a competitive advantage and we do this by collaborating with thought leaders and industry experts.
We strive to keep up with technology trends and the digital future.
We follow a customized teaching methodology whereby students can choose the level of study as per their qualification and requirement.
We believe in sharpening the mind instead of simply training the tools.
We use a practically oriented learning approach where we give students hands-on training and real-world knowledge on the subject they choose to study.
We give a live IT industry exposure to our trainees, making them job worthy.
We provide placement assistance.
What you'll learn
Concepts of Graphics and Illustrations
Typography Design
Digital Illustrations
Image Magic
Photography
Sketching
Design for Print and Advertising
Page Design
Print Portfolio
Instructors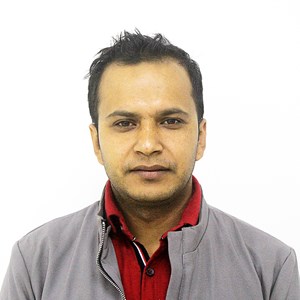 Dipendra Dhakal, 3D Max, Maya, Adobe Products
A well-known expert in Graphics, VFX and 3D applications for both training and production companies in Nepal.
Use of Tools & Software
Photoshop, Illustrator, InDesign, CorelDraw, Plugins, etc.
Students Work
Check out the variety of projects that our students work on, while at Neosphere.
Career Opportunities
Multimedia Designer

Logo Designer

Brand Identity Designer

Photo Editing / Photoshop Artist

Layout Artist

UX Designer
Certifications
Graduates from the course will be receiving:
Certificate of accomplishment from neosphere

Certificate from Arena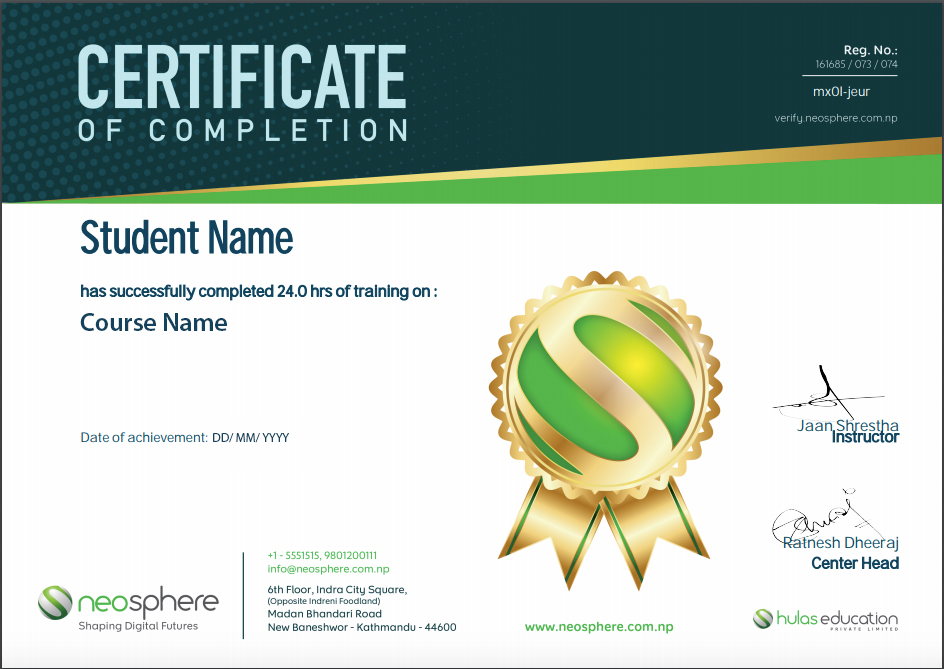 Register Now!
Session starting from Dec 8
Sun 5:00 PM - 6:30 PM
Tue 5:00 PM - 6:30 PM
Thu 5:00 PM - 6:30 PM
Seats Available
Price :
NPR 0
USD: 0
Session starting from Dec 5
Sun 3:00 PM - 4:30 PM
Tue 3:00 PM - 4:30 PM
Thu 3:00 PM - 4:30 PM
Seats Available
Price :
NPR 0
USD: 0
Session starting from Dec 12
Sun 6:30 PM - 8:00 PM
Tue 6:30 PM - 8:00 PM
Thu 6:30 PM - 8:00 PM
Seats Available
Price :
NPR 0
USD: 0